Rules and regulations
The following rules are for your peace of mind and that of our other guests. It is your responsibility as a guest to take note of the rules of order and to follow them. Violation of these rules may result in your expulsion from the camping. We hope you have a pleasant stay at our campsite!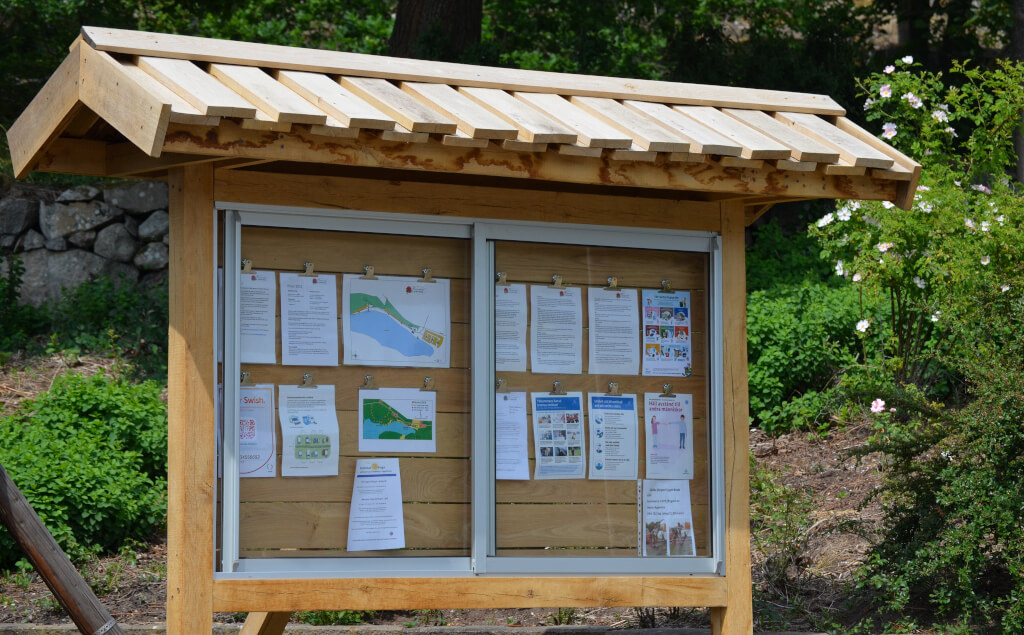 Vehicles and speed limit
Vehicle traffic is at walking speed and only between the entrance and your own camping site. Driving under the influence of alcohol is absolutely forbidden. Between 23.00-07.00 we do not drive inside the campsite, but the car should be parked at the entrance.
Charging an electric car is not allowed.
Attention
Please respect the wishes of others and show consideration. Disruptive behaviour is not allowed. Between 22.00 and 08.00 it must be quiet on the campsite. Exceptions may be made for events on the rotunda on Friday and Saturday evenings until 01.00. Information for each event will be provided via Facebook @Ljuvadal.
Loud radio, TV, stereo or other noise, especially at night, as well as assault or vandalism will result in immediate eviction and no refund for the remaining time at Ljuvadal.
Caravan / motorhome / tent
Safety distance regulations for caravans, motorhomes and tents must be observed. The distance between two camping vehicles or between a camping vehicle and a tent should be at least four metres. The distance between two tents should be at least three metres. Spot checks will be carried out by campsite staff. See also instructions on the information board at the entrance and on the www.msb.se.
Only one car/vehicle per campsite.
Caravans/campers must be registered for use as/for motorised vehicles.
Own fixed installations at the caravan/camper/tent, e.g. wooden decks and fencing, are not allowed without the approval of the campsite owner.
Car/caravan/camper wash is not allowed on the campsite.
For everyone's safety and comfort, we ensure that all our guests have their vehicles gas tested and approved.
Service building
Please leave the communal areas (toilets, showers, washing-up facilities and barbecue areas) in the same condition as you wish to find them. Dogs are not allowed in the service buildings. Smoking or drinking alcohol is also not allowed inside the buildings.
Garbage
Rubbish must be disposed of in the bins provided at the yellow service building. Food waste is placed in special paper bags, empty bags are collected in a special container next to the bins. Newspapers, paper packaging, plastic packaging, coloured glass, uncoloured glass, metal, batteries and residual waste are disposed of in the respective containers. Please place deposit cans in a separate container. The campsite handles household waste only. For other waste and hazardous waste, please refer to the waste disposal facility in Mörrum. Please follow the local instructions for sorting waste, which are posted next to the waste bins. Guests who fail to comply with these rules risk immediate dismissal.
Barbecue
Barbecuing is only allowed on the campsite with electricity or gas. Charcoal barbecues may only be used in specially designated barbecue areas within the campsite grounds. Barbecuing with wood is prohibited within the campsite. Disposable barbecues are also prohibited.
You are responsible for keeping up to date with the regulations of the fire protection authority and for complying with any restrictions due to drought etc.
Dogs
Inom campingens gränser får din hund vara lös om den inte är aggressiv mot andra hundar/människor eller stör campinggäster. Tänk på att vissa människor är rädda för hund ? visa respekt. Koppla hunden om någon ber dig. Ta upp efter hunden och släng hundbajspåsen i restavfallet. Hundbad sker till höger om bryggan vid badplatsen.
Games and play
Ball games are not allowed at the tents/caravans/campers or buildings.
Nature
Var aktsam om naturen ? den förtjänar din omtanke. Varje form av nedskräpning är strikt förbjuden och överträdelse medför straffansvar.
Boat
Your own boat may not be launched in Lake Uggleboda. Nor may a motor be fitted to a boat belonging to Ljuvadal. Canoes, kayaks, surfboards and the like are permitted provided they are well cleaned and have dried since previous use. This is to prevent the spread of waterborne diseases and invasive species.
The use of a boat belonging to Ljuvadal is at your own risk. Bring your own life jacket.
Smoking
Smoking is only allowed on your own pitch. Otherwise we strive for a smoke-free campsite.
Departure
The campsite must be vacated and well cleaned before 12 noon on the day of departure.
Responsibility
As a guest, you undertake to take good care of the rental property and to comply with the rules, instructions and regulations in force, and to ensure that fellow guests/other visitors do the same.
You are responsible for any damage caused within the campsite area by you or someone in your party being negligent. You are liable for any damage caused.
You may not use the camping site for anything other than tourist accommodation.
Ljuvadal disclaims all liability for theft and damage to guests and their property. Furthermore, we reserve the right, at the guest's own expense and without deduction of the rent paid, to immediately evict any guest who does not comply with the above rules and the instructions given by the campsite host.